FAQ: Warning System Setup
As of May 2006 we have set up a formal warning system on FanChitChat. For the official rules of ChitChat, please see our
Code of Conduct.
You may only view your own warning rating, no one else can see your rating nor can you see theirs.
The easiest way to check your current warning level is to look at one of your posts. Under your screen name you will see your warning rating, as shown below: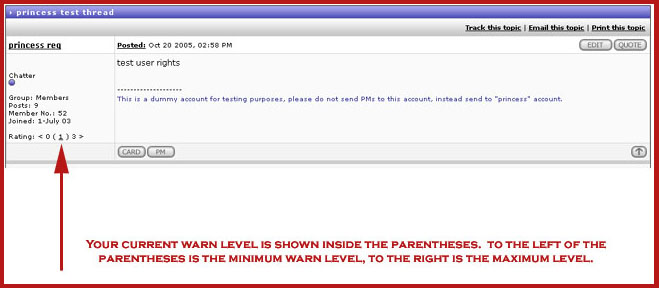 The number within the parentheses is your current warn rating. As per our
Code of Conduct #2
, board members will be given two warnings for any inappropriate behavior, on the third offense the member will be banned. You may click on your warn rating number and a window will pop up detailing why you were warned (ie: description, which thread & date).
After a period of one year any warning you received will drop off from your warning rating. HOWEVER, this is something that we must do manually so please send Cydonia or myself a PM and let us know when your warn rating should be adjusted.
If you feel that you have received an unjust warning, the best thing to do is to PM Cydonia or myself with a
calm
explanation of why you feel you should not be warned. Note that retaliation is not a good reason. If you are being attacked by another member, you should PM one of us with a link instead of taking it upon yourself to retaliate. Again, warnings will be decided on a case-by-case basis at the discretion of forum administrators.
princess
Edited by princess, 13 December 2006 - 11:04 AM.